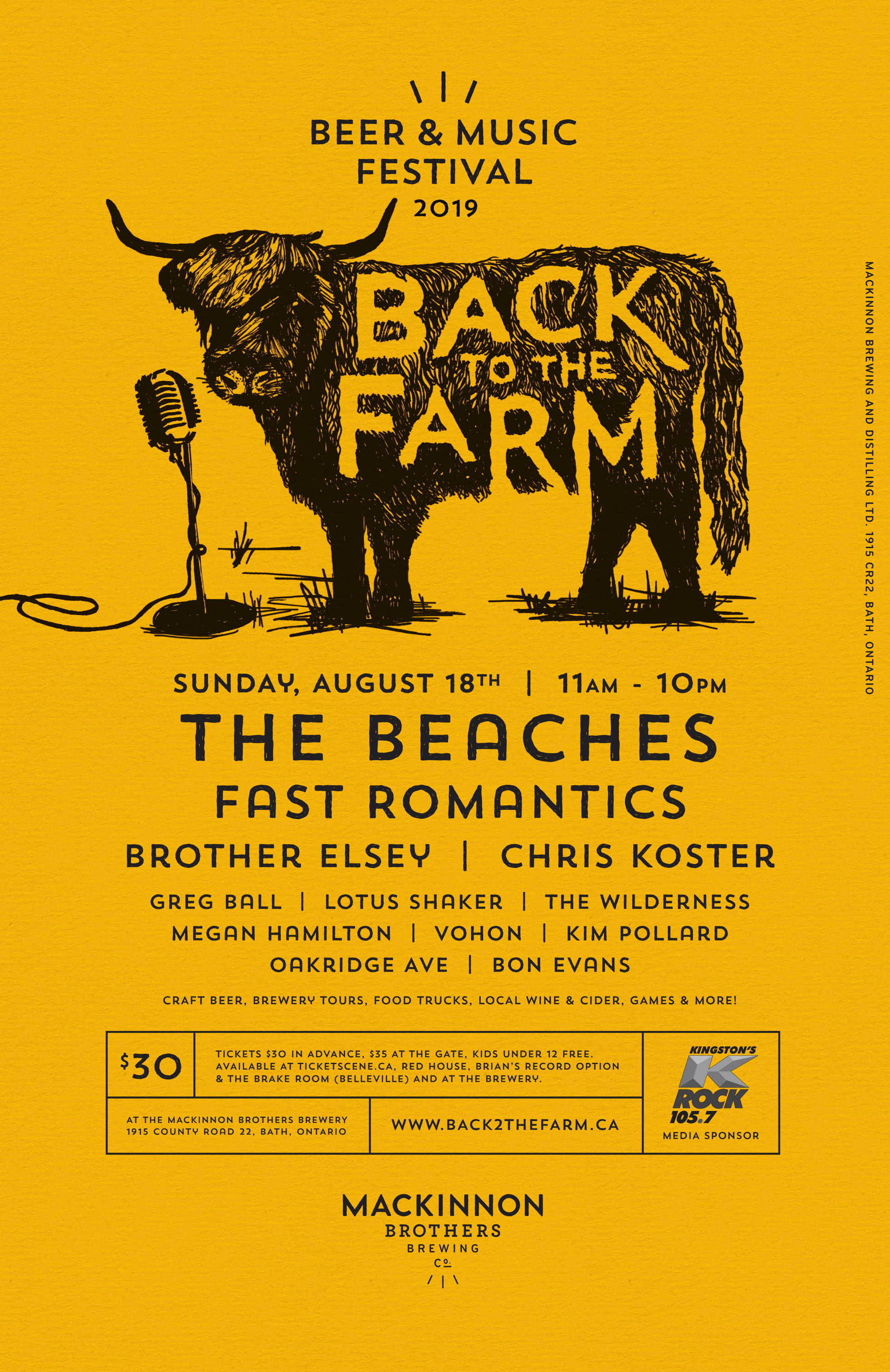 Will there be tickets at the door?
We are sold out for the 2019 festival. There will be no tickets at the door.

When are the brewery tours?
Brewery tour details will be announced soon.
Tours are by donation and each year we choose a local charity to support with these funds.
Yes! This is an all-ages event, and children under 12 are free. We'll have lots of games on site for both kids and adults to enjoy (badminton, Frisbee, giant Jenga, etc.).
There is also an ice cream truck.
Nope. Dogs and ferrets generally don't do well with loud music, plus it can get really hot on the farm. And if they get drunk and start aggressively flirting, it can be an unwelcome distraction.
Yes, but we may be able to do cash back from our Interac machine in the brewery's retail store. There's also an RBC in Bath. It's best to bring plenty of cash with you.
Can I bring my own drinks?
You can't bring booze. We'll have lots. We will have a water truck on site, so you can bring a reusable non-glass water bottle. Anything else is fine, as long as it's sealed when you get here.
Can my band perform/can I be a vendor?
We're booked right up for music and generally take care of finding acts on our own, but we wouldn't get angry if you still feel the need to give us a suggestion. Food and/or craft vendors can get in touch by emailing festival@mackinnonbrewing.com
Is there a restriction on bag size?
Any reasonable backpack that does not contain anything stupid is allowed.
What else should I bring?
We mentioned cash, right? And a water bottle (not made of glass)? Otherwise, check the weather and bring gear accordingly. We're doing this rain or shine! Definitely bring lots of sun screen, nice friends, good ideas, and maybe a lawn chair or picnic blanket. But lawn chairs aren't allowed near the stage.
No one can party hard while sitting down.
What else should I NOT bring?
We already told you about alcohol, pets, and glassware, but you also can't bring bad attitudes, weapons, uncomfortable shoes, and bad drunks. Bicycles or skateboards or any other type of non-foot transportation is both impractical and not allowed on the festival grounds.
Where can I go for day-of updates?
Follow our Festival Facebook Page for all up-to-the-moment information, or follow the brewery's Instagram story if that's more your vibe.
Shuttle buses, eh? Tell us more.
We'll have details for this year's shuttle bus schedule closer to the date. Buses leave from two pickup/drop-off points in Kingston.
You'll get wet. It's a rain or shine event!
What's the story with parking?
It's free, it's plentiful, and it's right on site! You can park overnight if you need to, though we prefer that you plan ahead and take a shuttle bus or travel with a designated driver.
We have a really big field for parking, so don't park on the side of the road. We aren't responsible for any damage or theft to vehicles in our parking lot, so keep valuables out of sight.
What if I don't drink beer?
We will have cider (the boozy kind) cocktails, and wine from some of our good friends in Prince Edward County. Our food vendors will have a variety of soda, kombucha and other fun drinks for sale as well.
Can I leave and then return to the festival?
Re-entry is not guaranteed. Please check with staff at the gate if you want to leave.
Should I print off my ticket?
You can print your tickets or display them on your phone at the gate.